In the course of just two days, the ambassadors of two separate and distant countries to Hungary, the heads of the diplomatic mission from the Republic of South Africa and the Republic of Ecuador, each paid a visit to the University of Debrecen.
Out of the six South African students currently enrolled in our institution, four study medicine and two are affiliated with the Faculty of Public Health. The primary objective of the ambassadorial visit on November 24 was partly to maintain contact with the students, yet His Excellency
Johann
Marx
also conducted negotiations with the top management of the University of Debrecen. The reason for this was that our university had submitted an Erasmus+ international credit-mobility application in September 2015, which identifies Rhodes University with an eight-thousand-strong student body as one of the potential partner institutions. It was also mentioned at the meeting that Institute of Mathematics and Informatics at the University of Debrecen had been cooperating with South African institutions since 2013, in the framework of which a regular exchange of instructors as well as PhD students had been implemented through a number of various academic projects. The present objective is the expansion of the current relations, about which His Excellency held a presentation at UD's Faculty of Law.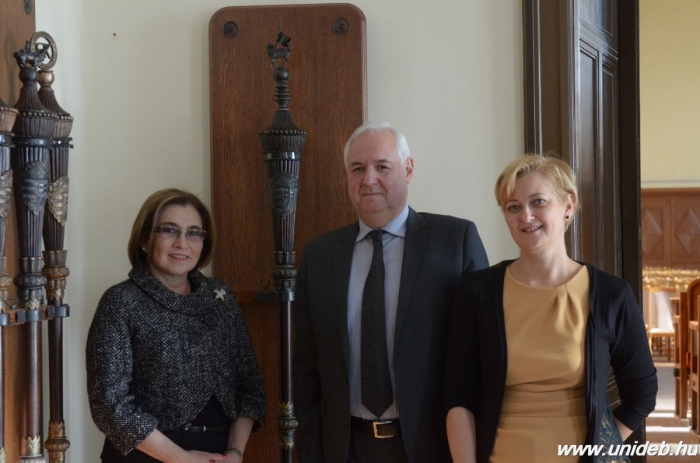 Under the auspices of the scholarship program established by the Government of Hungary called
Stipendium Hungaricum
, there are currently 47 students altogether from Ecuador in Hungary, seven of which are enrolled at the University of Debrecen. All of them go to
Faculty
of Agricultural and Food Sciences and Environmental Management, where Her Excellency
María del Carmen González
met them in person during her visit on November 25. Vice Rector for Education
Elek Bartha
and Head of the Office for International Relations
Orsolya Jánosy
received her in the main building, following which she took a tour of our campus and also gave a reception to compatriot students from Ecuador.
Although the relationship between our university and this South American country has not been too long-standing as yet, both parties agreed that there would be ample opportunities to expand the current cooperation, especially by submitting joint Erasmus+ applications in the future.
At the University of Debrecen, there is a total of 4262 international students enrolled from as many as 106 different countries in the first semester of the 2015/16 academic year.
Press Office