This year's
DExpo
did not only mark a jubilee, but it also turned out to be the most popular of its kind so far, as there were as many as 4600 participants altogether attending the open days hosted by the University of Debrecen.
Vice Rector for Education
Elek Bartha
held a presentation on both the 18th and the 19th of November to audiences that displayed particularly high levels of interest. He outlined the broad spectrum of programs offered by the University of Debrecen, mapped up scholarship possibilities and sports/leisure related activities, and also mentioned the prestigious positions that the university occupies in various rankings. At the information booths of the individual faculties located in the Inner Courtyard, high school students could ask questions concerning the different majors and minors, they could learn about how to take
DExam
, the language examination developed and introduced by the university, they could find out about what kinds of problems can be treated in the university's Mental Health Center, and they also received information on how the talent management program called
DETEP
works.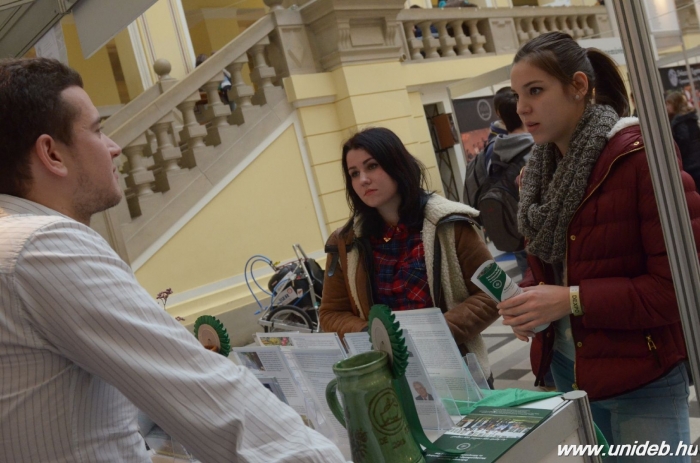 "There were 4630 students altogether participating in the various programs offered in the framework of our open days, which is an unmistakable indication of the growing interest about our university. We had groups coming to Debrecen from all over Hungary; apart from the eastern counties, they came from the other side of the river Danube and even from across the border, including the Transylvanian part of Romania and Hungarian-populated areas of Slovakia," said
Mónika Rőfi
, the head of the organizing body called Alumni Center.
Films about life at the university were shown to full houses in
DExpo Mozi
, from which the interested parties could learn about the history of the tainted glass windows of the main building as well as they could get an insight of everyday life during orientation week for freshers.
One of the attractions at the various campuses was the chance for the young visitors to observe real-life seminar classes and lectures, like, for example, they could dissect a rat at the Faculty of Pharmacy and could peep a glance at an open-heart surgery operation at the Faculty of Medicine. Feedback on their experience, as well as further queries, may be sent to the address
dexpo@unideb.hu
.
Please find additional photos about the
DExpo
open days in our
photoalbum
.
Press Office