<!{sql_minus_minus}[if gte mso 9]>




<![endif]{sql_minus_minus}>
<!{sql_minus_minus}[if gte mso 9]>


Normal
0


21


false
false
false

HU
X-NONE
X-NONE
























<![endif]{sql_minus_minus}> <!{sql_minus_minus}[if gte mso 9]>

DefSemiHidden="false" DefQFormat="false" DefPriority="99"
LatentStyleCount="371">


UnhideWhenUsed="true" QFormat="true" Name="heading 2"/>
UnhideWhenUsed="true" QFormat="true" Name="heading 3"/>
UnhideWhenUsed="true" QFormat="true" Name="heading 4"/>
UnhideWhenUsed="true" QFormat="true" Name="heading 5"/>
UnhideWhenUsed="true" QFormat="true" Name="heading 6"/>
UnhideWhenUsed="true" QFormat="true" Name="heading 7"/>
UnhideWhenUsed="true" QFormat="true" Name="heading 8"/>
UnhideWhenUsed="true" QFormat="true" Name="heading 9"/>
Name="index 1"/>
Name="index 2"/>
Name="index 3"/>
Name="index 4"/>
Name="index 5"/>
Name="index 6"/>
Name="index 7"/>
Name="index 8"/>
Name="index 9"/>
UnhideWhenUsed="true" Name="toc 1"/>
UnhideWhenUsed="true" Name="toc 2"/>
UnhideWhenUsed="true" Name="toc 3"/>
UnhideWhenUsed="true" Name="toc 4"/>
UnhideWhenUsed="true" Name="toc 5"/>
UnhideWhenUsed="true" Name="toc 6"/>
UnhideWhenUsed="true" Name="toc 7"/>
UnhideWhenUsed="true" Name="toc 8"/>
UnhideWhenUsed="true" Name="toc 9"/>
Name="Normal Indent"/>
Name="footnote text"/>
Name="annotation text"/>
Name="header"/>
Name="footer"/>
Name="index heading"/>
UnhideWhenUsed="true" QFormat="true" Name="caption"/>
Name="table of figures"/>
Name="envelope address"/>
Name="envelope return"/>
Name="footnote reference"/>
Name="annotation reference"/>
Name="line number"/>
Name="page number"/>
Name="endnote reference"/>
Name="endnote text"/>
Name="table of authorities"/>
Name="macro"/>
Name="toa heading"/>
Name="List"/>
Name="List Bullet"/>
Name="List Number"/>
Name="List 2"/>
Name="List 3"/>
Name="List 4"/>
Name="List 5"/>
Name="List Bullet 2"/>
Name="List Bullet 3"/>
Name="List Bullet 4"/>
Name="List Bullet 5"/>
Name="List Number 2"/>
Name="List Number 3"/>
Name="List Number 4"/>
Name="List Number 5"/>

Name="Closing"/>
Name="Signature"/>
UnhideWhenUsed="true" Name="Default Paragraph Font"/>
Name="Body Text"/>
Name="Body Text Indent"/>
Name="List Continue"/>
Name="List Continue 2"/>
Name="List Continue 3"/>
Name="List Continue 4"/>
Name="List Continue 5"/>
Name="Message Header"/>

Name="Salutation"/>
Name="Date"/>
Name="Body Text First Indent"/>
Name="Body Text First Indent 2"/>
Name="Note Heading"/>
Name="Body Text 2"/>
Name="Body Text 3"/>
Name="Body Text Indent 2"/>
Name="Body Text Indent 3"/>
Name="Block Text"/>
Name="Hyperlink"/>
Name="FollowedHyperlink"/>


Name="Document Map"/>
Name="Plain Text"/>
Name="E-mail Signature"/>
Name="HTML Top of Form"/>
Name="HTML Bottom of Form"/>
Name="Normal (Web)"/>
Name="HTML Acronym"/>
Name="HTML Address"/>
Name="HTML Cite"/>
Name="HTML Code"/>
Name="HTML Definition"/>
Name="HTML Keyboard"/>
Name="HTML Preformatted"/>
Name="HTML Sample"/>
Name="HTML Typewriter"/>
Name="HTML Variable"/>
Name="Normal Table"/>
Name="annotation subject"/>
Name="No List"/>
Name="Outline List 1"/>
Name="Outline List 2"/>
Name="Outline List 3"/>
Name="Table Simple 1"/>
Name="Table Simple 2"/>
Name="Table Simple 3"/>
Name="Table Classic 1"/>
Name="Table Classic 2"/>
Name="Table Classic 3"/>
Name="Table Classic 4"/>
Name="Table Colorful 1"/>
Name="Table Colorful 2"/>
Name="Table Colorful 3"/>
Name="Table Columns 1"/>
Name="Table Columns 2"/>
Name="Table Columns 3"/>
Name="Table Columns 4"/>
Name="Table Columns 5"/>
Name="Table Grid 1"/>
Name="Table Grid 2"/>
Name="Table Grid 3"/>
Name="Table Grid 4"/>
Name="Table Grid 5"/>
Name="Table Grid 6"/>
Name="Table Grid 7"/>
Name="Table Grid 8"/>
Name="Table List 1"/>
Name="Table List 2"/>
Name="Table List 3"/>
Name="Table List 4"/>
Name="Table List 5"/>
Name="Table List 6"/>
Name="Table List 7"/>
Name="Table List 8"/>
Name="Table 3D effects 1"/>
Name="Table 3D effects 2"/>
Name="Table 3D effects 3"/>
Name="Table Contemporary"/>
Name="Table Elegant"/>
Name="Table Professional"/>
Name="Table Subtle 1"/>
Name="Table Subtle 2"/>
Name="Table Web 1"/>
Name="Table Web 2"/>
Name="Table Web 3"/>
Name="Balloon Text"/>

Name="Table Theme"/>























Name="List Paragraph"/>

Name="Intense Quote"/>














































































Name="Subtle Emphasis"/>
Name="Intense Emphasis"/>
Name="Subtle Reference"/>
Name="Intense Reference"/>

UnhideWhenUsed="true" Name="Bibliography"/>
UnhideWhenUsed="true" QFormat="true" Name="TOC Heading"/>













Name="Grid Table 1 Light Accent 1"/>




Name="Grid Table 6 Colorful Accent 1"/>
Name="Grid Table 7 Colorful Accent 1"/>
Name="Grid Table 1 Light Accent 2"/>




Name="Grid Table 6 Colorful Accent 2"/>
Name="Grid Table 7 Colorful Accent 2"/>
Name="Grid Table 1 Light Accent 3"/>




Name="Grid Table 6 Colorful Accent 3"/>
Name="Grid Table 7 Colorful Accent 3"/>
Name="Grid Table 1 Light Accent 4"/>




Name="Grid Table 6 Colorful Accent 4"/>
Name="Grid Table 7 Colorful Accent 4"/>
Name="Grid Table 1 Light Accent 5"/>




Name="Grid Table 6 Colorful Accent 5"/>
Name="Grid Table 7 Colorful Accent 5"/>
Name="Grid Table 1 Light Accent 6"/>




Name="Grid Table 6 Colorful Accent 6"/>
Name="Grid Table 7 Colorful Accent 6"/>







Name="List Table 1 Light Accent 1"/>




Name="List Table 6 Colorful Accent 1"/>
Name="List Table 7 Colorful Accent 1"/>
Name="List Table 1 Light Accent 2"/>




Name="List Table 6 Colorful Accent 2"/>
Name="List Table 7 Colorful Accent 2"/>
Name="List Table 1 Light Accent 3"/>




Name="List Table 6 Colorful Accent 3"/>
Name="List Table 7 Colorful Accent 3"/>
Name="List Table 1 Light Accent 4"/>




Name="List Table 6 Colorful Accent 4"/>
Name="List Table 7 Colorful Accent 4"/>
Name="List Table 1 Light Accent 5"/>




Name="List Table 6 Colorful Accent 5"/>
Name="List Table 7 Colorful Accent 5"/>
Name="List Table 1 Light Accent 6"/>




Name="List Table 6 Colorful Accent 6"/>
Name="List Table 7 Colorful Accent 6"/>

<![endif]{sql_minus_minus}> <!{sql_minus_minus}[if gte mso 10]>
<![endif]{sql_minus_minus}>
In the 2021/2022 academic year, the University of Debrecen will launch eight of its BA/BSc programs at two locations outside the borders of Hungary: II. Rákóczi Ferenc Kárpátaljai Magyar Főiskola [Ferenc Rákóczi II Transcarpathian Hungarian College] and Partiumi Keresztény Egyetem [Partium Christian University, Nagyvárad].
"In Beregszász (Berehove, Ukraine), the Faculty of Health will offer full-time and correspondence programs in the Nursing specialization of the Nursing and Patient Care BSc, the Faculty of Education for Children and Special Needs will offer full-time and correspondence programs in Social Pedagogy, and the Faculty of Informatics will offer correspondence programs in Business Informatics Engineering BSc and in Computer Science Engineering BSc. In Nagyvárad (Oradea, Romania), the correspondence program of Agricultural Engineering BSc of the Faculty of Agricultural and Food Sciences and Environmental Management, full-time and correspondence programs in Agrobusiness and Rural Development Engineering of the Faculty of Economics and Business, and the full-time program in Mechanical Engineering of the Faculty of Engineering will be available for applicants. The Faculty of Humanities is expecting to receive applications from candidates to enter the full-time and correspondence programs in the Hungarian National Heritage specialization," said Vice Rector for Educational Affairs Elek Bartha to hirek.unideb.hu.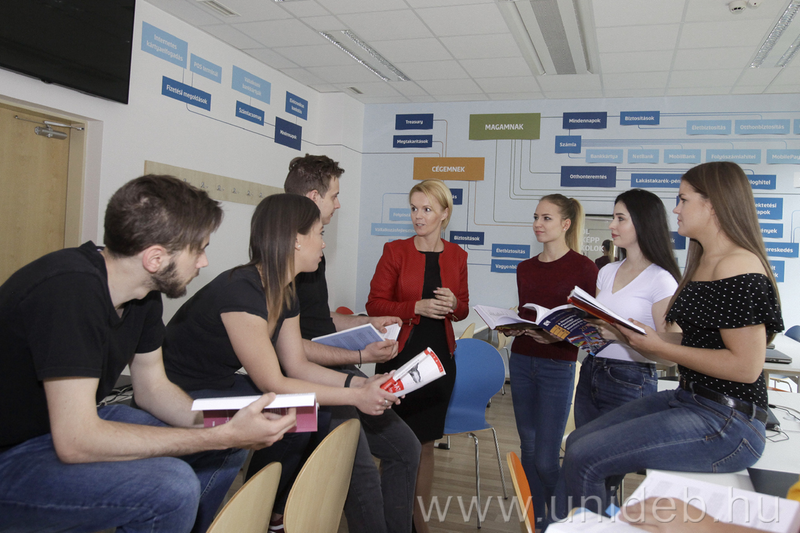 András Jávor, Rector's Chief Advisor at the University of Debrecen, Vice Chair of the Committee of Higher Education Institutions across the Border of the Hungarian Rectors' Conference, highlighted the following:  the objective of the University of Debrecen is to assist as many students abroad to get a diploma as possible, and to develop higher education institutions across the border through these degree programs.
"In the future, we wish to upgrade these programs and promote them to the status of joint programs through issuing joint degrees and diplomas. In the long run, we hope to establish teaching staff groups in the partner institutions under the auspices of the University of Debrecen that make it possible for these majors in Hungarian to be independently accredited in Romania and in Ukraine, too. In the upcoming academic year, UD will work on further expanding the system of programs across the border. We plan to launch new majors, for example, in the fields of civil engineering and arts. In addition, we would also like to introduce programs across the border in Szatmárnémeti (Satu Mare, Romania) and in Királyhelmec (Kralovsky Chlmec, Slovakia)," said András Jávor.

<!{sql_minus_minus}[if gte mso 9]>




<![endif]{sql_minus_minus}> <!{sql_minus_minus}[if gte mso 9]>


Normal
0


21


false
false
false

HU
X-NONE
X-NONE
























<![endif]{sql_minus_minus}> <!{sql_minus_minus}[if gte mso 9]>

DefSemiHidden="false" DefQFormat="false" DefPriorit