The Institute of Sports Sciences of the University of Debrecen, in cooperation with the Sports Diagnostics, Lifestyle and Therapeutic Centre (SET) and with the support of the city of Debrecen will organize FőnixFitt in mid-February. The purpose of the event is to raise awareness of the importance of prevention through promoting healthy living and regular physical exercises, and to provide visitors with expert help and advice.
The biggest fitness event in Eastern Hungary will await visitors in a 3,000 sqm area. Those interested in the world of fitness can expect stalls of various fitness clubs and other actors of the industry, and can also enjoy training sessions led by star fitness trainers. As the event has been designed as a family programme, parents and children will be able to practice together.  
The participants will be instructed by Alexandra Béres, World and European Champion fitness trainer, Tímea Sifter Arnold Classic Europe winner and kangoo-Guinness record-holding fitness athlete, Enikő Péntek fitness trainer and creator of the ZONA training programme, Erika Czégel GYMSTICK Master Trainer and Guinness record holder, Rezső Tatarek fitness presenter and creator of the IRON BOX concept, and Gabriella Bánkuti, Spartan weight body trainer.

Unifit, the fitness centre of UD will also be present at the event. Tamás Balogh, technical and operative director of the Stadion UniFit Fitness & Gym Center told us that they would build a large-capacity stall, which will also include a stage. From 9 a.m. throughout the day visitors can try out a wide variety of training concepts, including fat-burning, body-shaping, and preventive exercises, as well as dynamic and strength exercises designed to protect the spine.
- We will also present visitors with the demonstration of training concepts that they can try out at Unifit. At the event our primary goal will be to present our services, so that visitors can pick the
programs
and trainers they prefer from our schedule, added Tamás Balogh.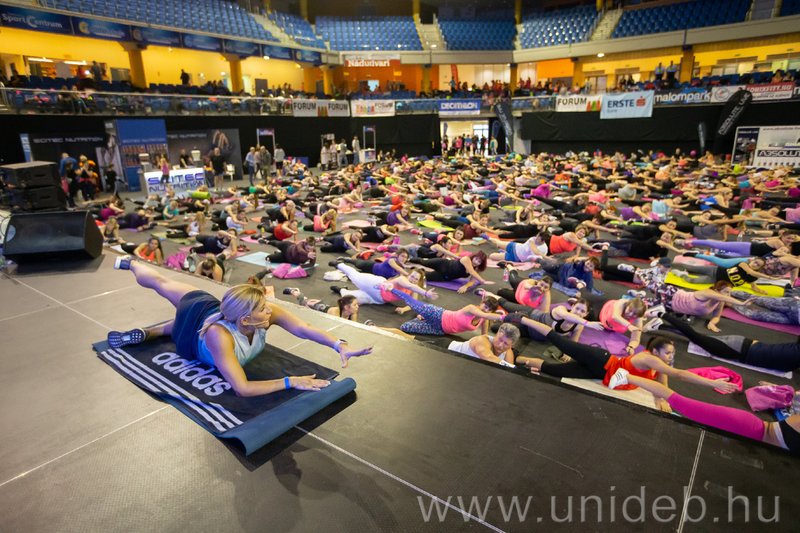 The operative director pointed out that the the professional objective of the fitness centre, which operates under the auspices of the university, will be to show the training concepts that university staff and students can choose from within UD. Unifit operates in synergy with SET, which will also be represented at the event.
Sándor Szántó, head of the Department of Sports Medicine at UD, sports physician director and rheumatologist of the Sports Diagnostics, Lifestyle and Therapy Centre (SET), said that the audience would learn about condition assessment methods that can be used with professional athletes and in rehabilitation programmes following injuries and strains as well.

SET will also offer body composition measurement, which means the determination of the fat content of the body and muscle mass on the torso and on each of the members using microcurrent.
Physiotherapeutic devices will also be presented, including the so-called Game Ready device, which is used for treating acute injuries and problems resulting from strain, and an instrument developed for lymphatic drainage massage and in competitive sports for reducing edema in the legs after heavy performance.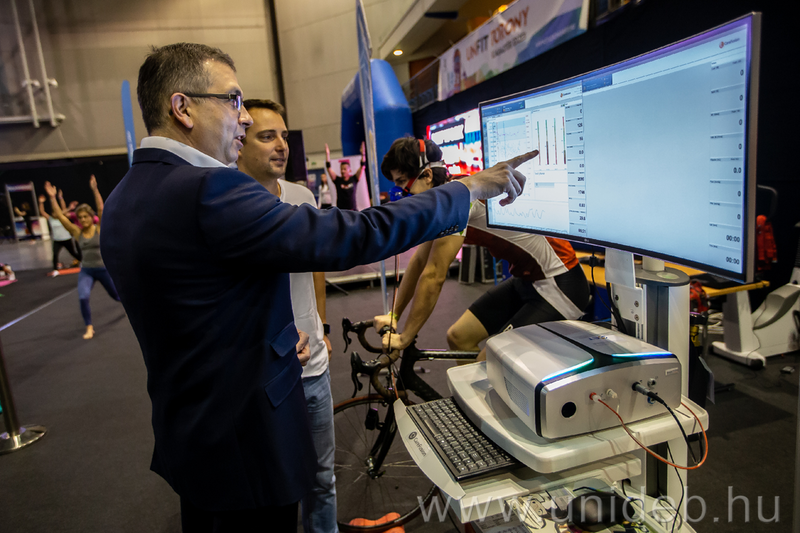 Experts from the SET will perform locomotive organs' assessment using functional tests to determine contractures resulting from the 21st century lifestyle, the reduction of elasticity and the weakening of deep muscles. These changes may lead to unhealthy posture, chronic pain in locomotive organs, and may also be detrimental to sports performance.
Sándor Szántó explained that visitors would receive bespoke advice based on the results, and may also participate in small-group sessions where they can learn about how these changes can be handled through therapeutic exercises.
László Balogh, director of the Institute of Sports Sciences and Coordination of UD said that they would be present at the stall of SET and UniFit to provide health-related measurements and expert advice.
They also plan to give presentations in the subjects of training theory, exercise physiology and nutrition.
Az erőteljes edzésmunka után a lelazítást segítő úgynevezett relax zone-t is lehet majd használni a csarnokban. Lesz kerékpáros edzés, azaz indoor cycling maraton is, amire a nagy érdeklődésre való tekintettel mindenkinek regisztrálni kell.
Be informed that you are not allowed to take food and beverages into the Hall, with the exception of milk-, egg- and gluten free food products that can be taken into the building after showing a medical certificate.
The 4th FőnixFitt will be held on 15 February. The gates will open at 8.30. Tickets are also available online
here
, For more information about the event please click
here
.

Press Office