Over 10 thousand students applied this year for the 14th International Masterclasses of the European Organisation for Nuclear Research CERN. The Institute of Physics of the University of Debrecen has been a participant of the international programme for over a decade, it was the first to join CERN's research programmes among Hungarian universities. This year 60 high-school students had a chance to take a peek into the realm of particle physics.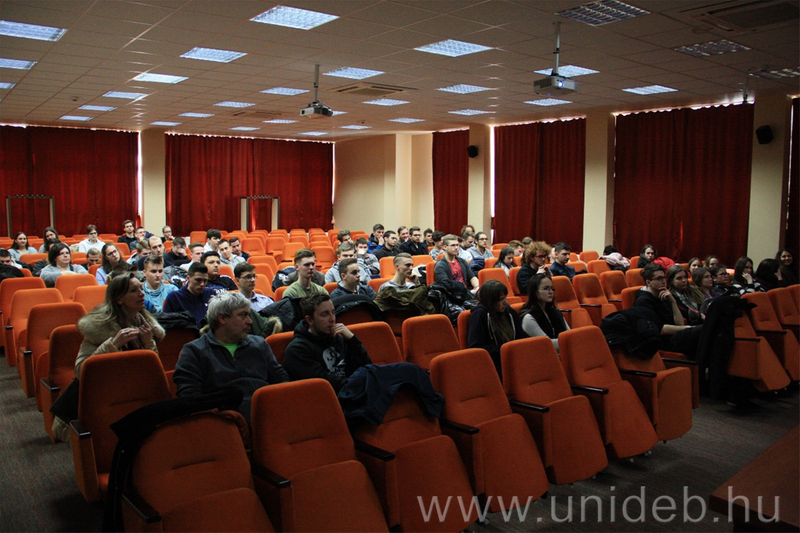 On 22 February Gábor Somogyi familiarised the students with concepts and phenomena that rarely feature in the curriculum as well as the research programmes of CERN in the auditorium of ATOMKI. Following a study visit in ATOMKI, Beáta Király showed the students the equipment that scientists use in research programmes connected to CERN. In the afternoon, in the Miklós Dede computer room of the Institute of Physics students had an opportunity to look for traces of particles in data prepared by CERN with the guidance of Balázs Ujvári. At the end of the programme, they discussed the results via a video conference with other participants of the international programme, the universities of 3 other countries, and scientists working at CERN.
Some of the students participating in the programme regularly attend a science group at the Institute of Physics, which is based on the activities of CERN, but adjusted to the knowledge level of high school students. The talent nurturing programme lasts for one and a half months.
- The primary goal is to promote natural sciences and technical fields as well as the related education programmes among students. At the same time, it is also important to allow students to participate in high profile research programmes as early as possible, because in this case they are likely to continue research at university, too. Currently more than 10 students are working on their TDK research connecting to the research programmes of CERN or on their theses at the Institute of Physics – said Zoltán Trócsányi, university professor and head of the Department of Experimental Physics.
Press office