The team of the Faculty of Engineering first entered their construction in the London competition last year. While the main aim then was gaining experiences, their result of 102 kilometres was also enough for the 30th place in the prestigious group of contestants.
"Participation at an event of this magnitude is of major importance for all students, and what place we secure is not even necessarily the most important question," said Géza Husi at the press conference on 18 May, before the team's departure.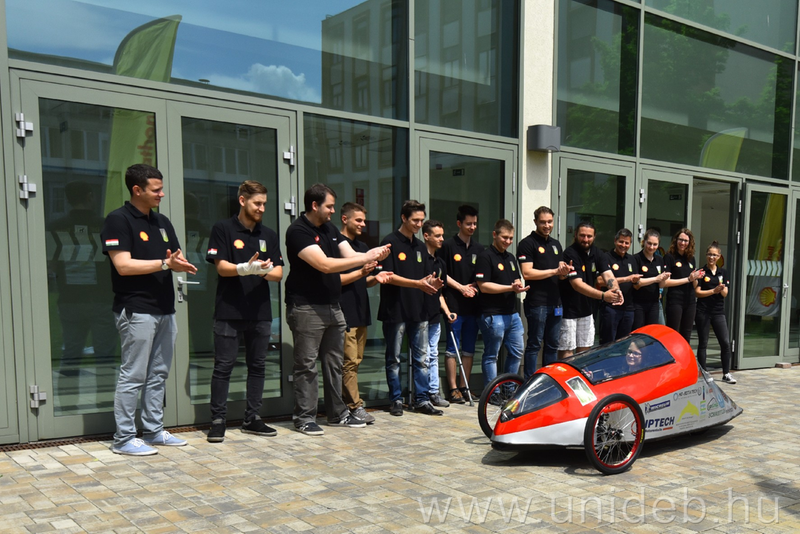 As the vice dean of the Faculty of Engineering emphasised, the preparation requires significant additional work from both the faculty members and the students. The primary reward for the latter is that they can experience the success of the product of their own intellectual work and hands-on, physical efforts.
"The team will enter with a renewed vehicle this year: the car received a new motor and new electronic controlling in the interest of saving even more energy, but the external covering was also improved aesthetically. A total of 15 people will travel to London this year, including 7 mechanical engineering, 3 management, 2 building engineering, 1 mechatronic engineering students, as well as 2 faculty members", Tamás Antal Varga, a young colleague at the Faculty of Mechanical Engineering and the manager of the team said, in describing the team.
The Shell Eco Marathon will be held as a part of the Make the Future Live festival between 25 and 28 May, in Queen Elizabeth Olympic Park in London, where 178 teams of secondary and university students from 28 countries will compete to decide whose vehicle can cover the largest distance with the least amount of energy, only one litre of fuel or one kWh of electric power.
 
Press Office