Within the framework of a short and quick electronic voting process, in a matter of six hours, more than 400 votes were cast: the choices offered included a combination of red and anthracite grey or cappuccino and green.
As regards proportions of participation in the poll, it was the ladies who turned out to be more active in sharing their opinion: with 291 female and 150 male voters altogether, their number was almost twice as high as that of the gentlemen. There were 243 votes cast for the anthracite grey-red combo as opposed to the 198 votes in favor of the cappuccino choice. In the analysis of the results, it also turned out which gender had preferred which color. Well, the brighter variety seems to have been favored to a greater extent (by 89 male and 154 female voters), whereas the pale one appears to have attracted only 61 men and 137 women. Although the pairing of anthracite grey with red got most of the votes in both camps, due to the relatively close competition results, the management of the university finally opted for a compromise: the central venues of the gym will be painted red and anthracite grey, while the wellness and the women's fitness sections will be cappuccino and green.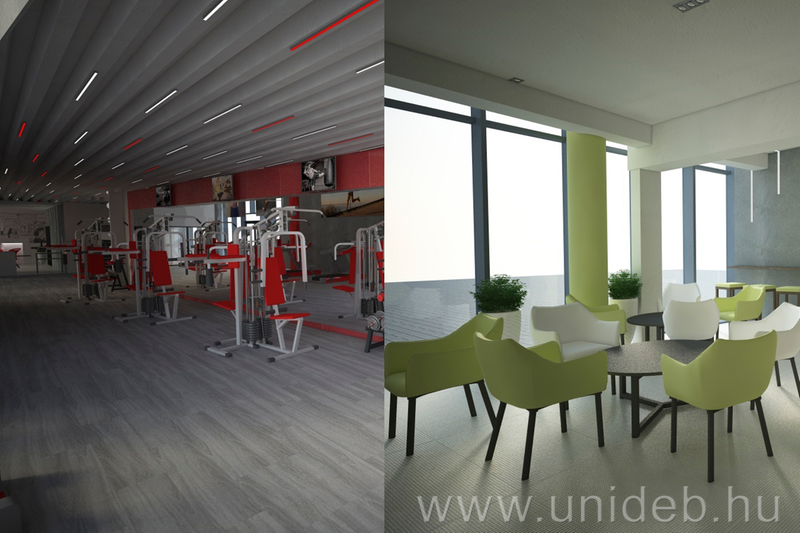 The new facility in Nagyerdei Stadion is about to be established and fitted with the proper pieces of equipment. In the 3300 square meter center, immediately next to SET Központ, an ultra-modern sports and community space will be soon at the disposal of the customers.
In Stadion Fitness, parents and kids will be able to use a kids' playground and participate in kids' gymnastics sessions, while (professional) athletes may also try traditional wall climbing and bouldering in addition to the usual fitness services, and use the venues for squash, table tennis, and martial arts. According to the current plans, the new facility will be available for the health-conscious among students and faculty as well as for the general public as of September 2017.
For the former group, the services rendered by the center may be used with considerable price reductions upon flashing a DEKa kártya [DEKa Card: a multi-purpose card for the students and staff of the University of Debrecen] at the entrance.
Press Office