In the next few weeks, some 3,600 students will receive their diplomas at the University of Debrecen. A live stream broadcast of the graduation ceremonies will be available on unideb.hu.
From this year, at the initiative of the students, graduates of the Faculty of Economics and the Faculty of Agricultural and Food Sciences and Environmental Management will also receive their diplomas in the Ceremonial Hall of the Main Building. The organizers also thought of those who cannot be present on campus: a live broadcast of all graduation ceremonies can be seen on the website of the university, at the unideb.hu portal.
Click
here
for a schedule of the graduation ceremonies.
We are now accustomed to the sight of university leaders and students wearing academic attire at ceremonial events on campus, even though it is different for each group. It was after the integration in the year 2000 that the university's leadership decided to align with the traditions of the legal successor Reformed College and reintroduce gowns for the university leaders, professors and students. The collars of the gowns represented the various faculties, and the deans featured the same colours on their gowns.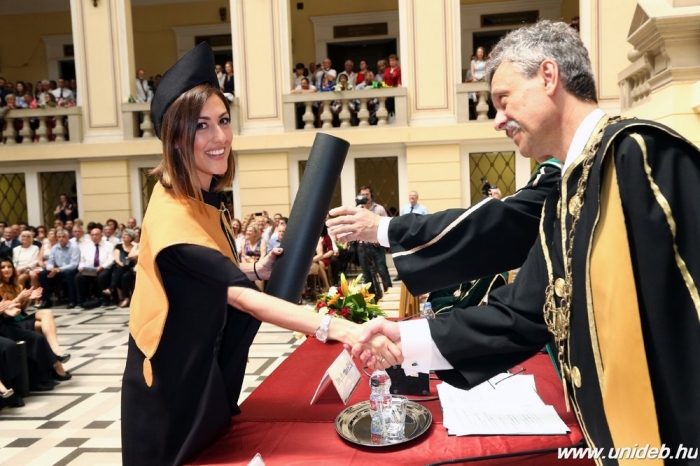 The hood was also a part of the former attire of graduating students, but this custom was only reintroduced in 2009, at the request of the students. After receiving the diplomas, the time for the hoods to fly in the air has come. The gowns are only loaned to the students, but the hoods are gifts, mementos of their years spent in Debrecen.
In the first, 1914-15 academic year, there were 80 students at the Faculty of Theology, 133 at the Faculty of Law, 8 at the Faculty of Arts, and a total of 354 students in their graduating year at the Hungarian Royal University of Debrecen.
Today, the total number of students at the 14 faculties of the University of Debrecen is close to 30 thousand. More than 3,600 of them will receive their diplomas at the graduation ceremonies over the next few weeks.
Press Office