Medicor
Hand Instrument Ltd. supports first-year students of medicine and dentistry by donating to them sets of instruments required for their anatomy and pathology practices.
The Debrecen-based company, situated "at the cutting edge" of medical hand instrument production has supported first-year students of medicine and dentistry at the University of Debrecen for a number of years. This year, as many as 650 students will receive their practice sets of scalpels, forceps, and scissors, the relevant agreement on which was signed on Tuesday, February 16.
"The University of Debrecen is one of those institutions where students still get a chance to conduct their anatomy and pathology practices on human bodies. Thanks to this cooperation, each one of our Hungarian and international freshers can get the necessary instruments for free," said
László Mátyus
, Dean of the Faculty of Medicine.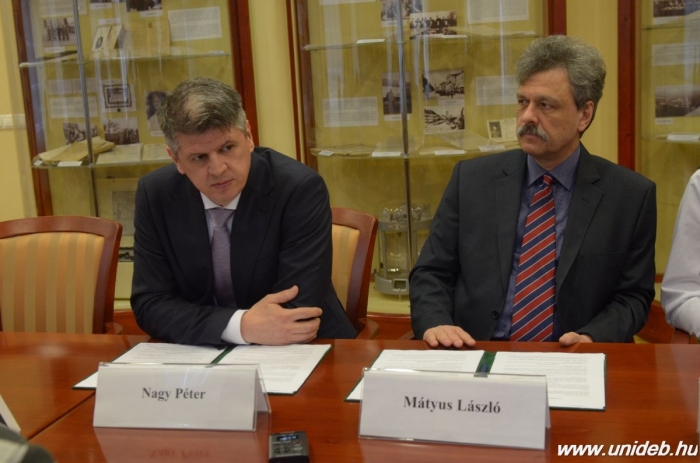 Medicor
Hand Instrument Ltd. has, for several years, supported the third-year students of the Department of Operative Techniques and Surgical Research by providing them with instruments required for acquiring surgical techniques, while they have also donated starter sets for graduates in dentistry. Simultaneously, they have been involved in the development of innovative hand instruments in several other fields, for example, in cooperation with practicing specialists in orthopedics and urology.
"Complying with the demands, we are currently working on designing a special instrument for wound exploration together with the experts of the University of Debrecen, and we have also assembled the practice sets for freshers on the basis of the feedback we have received from the students. What is more, we have also made an offer to them according to which they may follow the production process of these almost exclusively handmade steel instruments from the beginning to the end at our production plant in Debrecen," said
Péter Nagy
, CEO of
Medicor
Hand Instrument Ltd.
Following the signing of the cooperation agreement,
Bálint Rehó
, President of the Faculty Student Self-Government, symbolically received one set of instruments of the 650 anatomy practice sets on behalf of the rest of the medical students.
Press Office