This year the Educatio International Education Exhibition, at which the University of Debrecen has been a regular guest since its inception, will be held for the 16th time.
Hungary's largest trade show in the educational market can be visited free of charge by school students applying to colleges and universities, and offers information on Hungarian and international opportunities at the same time and in the same place.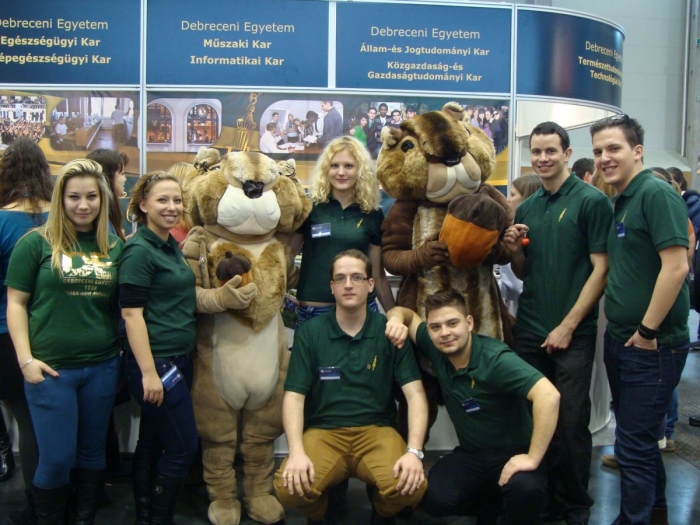 - The University of Debrecen this year is also presenting a separate "island" with a stand featuring the course offers of 14 faculties. The 35-strong crew - mostly Student Union (HÖK) representatives - will answer all the visitors' questions, and introduce the institution's educational opportunities, courses, accommodation and cultural and leisure facilities. Of course we are preparing surprises, gifts, and leaflets and the universally popular mascot eDE will also be with us,
Dániel Molnár
, Cabinet Head of the DEHÖK, told the unideb.hu portal.
- Participation in the Education Fair fits with the university's enrolment program, and this event gives us the opportunity to meet students preparing for entrance to higher education who live in the capital and in the counties of Transdanubia; we can describe what the University of Debrecen can offer prospective students – said
Monika Rőfi
, organizational director of the Event and Alumni Centre.
The press office of the DEHÖK provides information about the event and the University of Debrecen stand on the unideb.hu portal and on Facebook.
The three-day event - where current students and teachers from 50 higher education institutions, give key information on courses, student hostels, and student life – features around 150 exhibitors and 30,000 visitors every year.
The exhibition in the capital city, in addition to institutions of higher education, also features displays from textbook publishers, manufacturers and distributors of educational aids, foreign universities, language schools, vocational education institutions and research institutes.
Time: 21st to 23rd January 2016 (Thursday, Friday and Saturday)
Opening hours: 10-17
Location: SYMA Event and Convention Centre (Budapest, Dózsa György út 1)
Press Office