The universities of Debrecen and Sarajevo will work together in the fields of berry fruits, the dairy sector, and the production and development of beef.
The joint project between the universities of Debrecen and Sarajevo was launched almost ten years ago. In recent years, Bosnian laboratory professionals have attended training courses in Debrecen, and have concentrated on learning various methods of gene preservation in animal husbandry.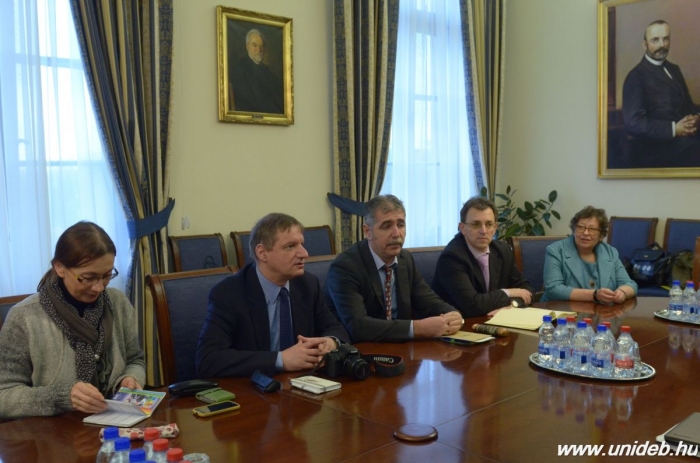 - In the coming period the government of Bosnia and Herzegovina will give priority to questions relating to the development of berry fruits and dairy products, as well as the rearing of young cattle, in which field the University of Debrecen also gives technical support to the Bosnians - said
Andras Javor
, vice-rector, when welcoming the five-member Bosnian delegation on Monday 11 January.
Led by the dean of the Faculty of Agriculture,
Zlatan Saric
, the delegation visited the University of Debrecen's Agricultural-, Food Sciences and Environmental Protection Faculty and the main building, where the vice-Rector
Elek Bartha
gave a presentation about the University. He stressed that Debrecen has the most - 23 - graduate schools, and the highest proportion - 15 percent, 4,500 individuals - of foreign students. There are currently five students from Bosnia and Herzegovina studying at the institution.
Eva Pasity-Juhasz
, a lecturer at the University of Sarajevo's Veterinary Faculty said that their institution, founded in 1948, has about 30,000 students studying in 25 faculties. The university's first faculty was agriculture, and so it is important to develop this field with the assistance of experts from the University of Debrecen. She added also that it is considered exemplary the way in which the Debrecen institution combines the processing industry and scientific knowledge.
More pictures in the
photo album
.
Press Office