During her visit to Debrecen,
Marie-France André
, Belgium's ambassador to Hungary, appointed four months ago, also paid a visit to the University.
The diplomat would like to get to know all the Hungarian regions as soon as possible and so is visiting institutions of higher education, as well as Belgian companies with headquarters in Hungary. It is no coincidence that she visited Debrecen on 18 December, because on this day the very first Wizz Air flight left from Brussels Airport to Debrecen, with the Ambassador on board.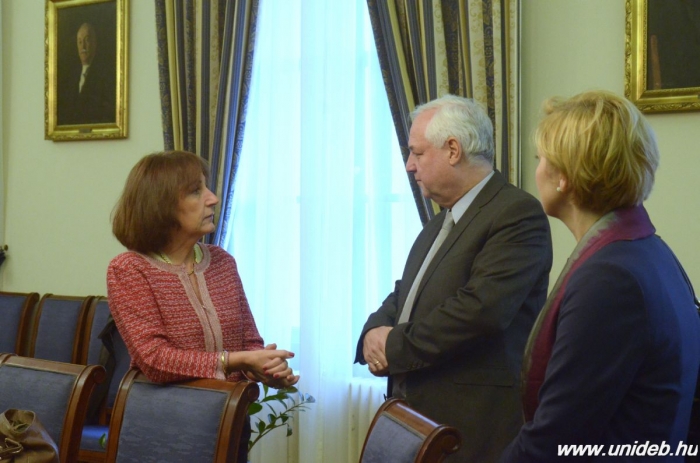 - The University of Debrecen and the Reformed College have for centuries enjoyed good relations with the Low Countries and the universities there. Debrecen – as is widely known – is the Calvinist Rome, but the Low Countries have traditionally been supporters of the Reformation, and this is also the origin of the close relationship - underlined the vice-rector for educational affairs,
Elek Bartha
, who welcomed the Ambassador in the University's main building in University Square.
Marie-France André described the launch of the Wizz Air flight as a step forward, which - as she put it – means that in the future you can get from Debrecen to Brussels faster than you can get to Budapest.
She described the Erasmus programme as fantastic, and regretted that during her university years there was no such possibility for students.
- Today, it is an important part of the life of intellectuals in the growing Europe, and it is important not only because of language learning, but also because the students involved can "learn" a different culture and become more independent, she stressed.
Gábor Pusztai, head of the Dutch Studies Department, also took part in the meeting, and emphasized that each year the department received guest teachers from the Low Countries, which is important both for research collaborations and student development.
The Ambassador also visited the French Department, where she meet Gabriella Tegyey, the head of department, and her colleagues to discuss the development of cooperation with members of the Francophone community.
The University of Debrecen currently has Eramus contracts with 12 Belgian higher education institutions, with 5 Belgian students studying here (three in the Medical Faculty, and two in the Faculty of Agricultural- and Food Sciences and Environmental Management). In this academic year under the Erasmus+ program 10 Debrecen students are studying in Belgium.
Photo Gallery
Press Office