This year, the Kodály Zoltán Youth World Orchestra was formed from young people from the United States of America, Costa Rica, Hong Kong, China, South Korea, Portugal, Serbia, Romania, Ukraine, Hungary, Spain, Poland and Italy. The young musicians worked together for 13 days in the academy.
- Over the last two weeks, 15 master classes have been taught by 28 professors of over 170 vocal and vocal secondary school students, undergraduates and graduates from all over the world to the Summer Academy of Music. 75 of them joined the work of the world band, whose art director is Tamás Vásáry, Kossuth Prize-winning pianist, conductor this year- said Judit Váradi, artistic director of the International Summer Academy of Young Musicians, at the beginning of the concert.
The world music band performed Manuel de Falla's "Triangle Hat" conducted by Zoltán Bolyky, and then played the E flat major piano concert of Ferenc Liszt with Ivana Damjanov's contribution. The Serbian talent started playing at the age of four; at the age of 7 he won a prize, and since then he has won 40 first prizes in several competitions. This year he has earned the Special Vásáry-Prize of the International Piano Competition. The 19-year-old pianist was warmly applauded by the audience of Kölcsey Center and took several curtain-calls.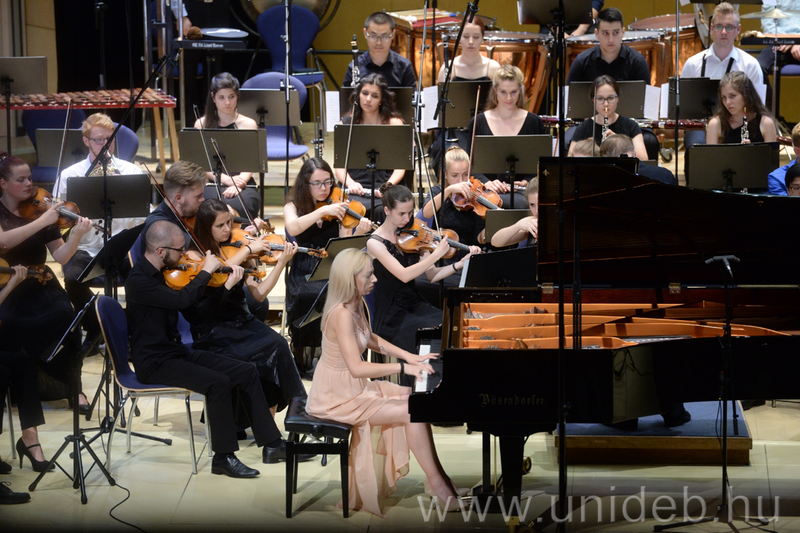 This year, the world band named after Zoltány Kodály billed to perform Kodály's suite, entitled "Háry János" directed by Tamás Vásáry, who is entering his 85th year in August.

- We undertake the almost impossible every year by trying to form a band in 12 to 13 days from children who come from many different parts of the world and have been playing only in solo. In the end, we always find the harmony, and this is how it has happened this year as well. Since I've worked with almost 160 or so bands in my career, I have my own methods, for example, I made them meditate before the rehearsals, so that they could concentrate better – said the world-famous artist.
Similarly to previous years, Tamás Vásáry and the world music band did not leave the Debrecen audience without an encore. The concert was ended with Brahms' "Hungarian Dances," in which the conductor involved the audience too.
After the great debut show in Debrecen, the Kodály Zoltán Youth World Orchestra gives three more concerts in the following days: in Budapest, Balatonfüred and Ljubljana.
Press Office