The biggest university of Jilin Province in Northern China was founded in 1958 and currently has more than 29,000 students. Its main profile is the teacher training but it also offers programs in law, natural sciencies and humanities as well as music and fine art.
The delegation which was led by Rector Yang Jinhai first received detailed information about the doctoral program of the University of Debrecen on 10 May.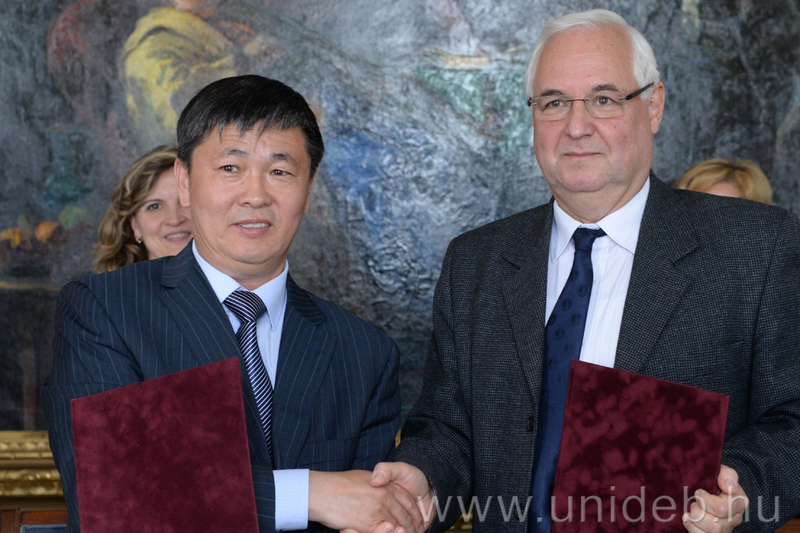 -From the teacher and student exchange point of view it is important that the visitors receive a full picture of the structure of the Hungarian doctoral program, the programs at the University of Debrecen, the training and research offers of our doctoral schools, the application method as well as the scholarship possibilities available for foreign students – said Zsolt Varga after the meeting.
After the presentation Vice Rector for Academic Affairs Elek Bartha received the guests in the Rectoral Chamber Hall where they signed the cooperation letter of intent.
-In many aspects – in terms of student body and programs offered – the structure and operation of the two universities are similar which makes it easier for teacher and student mobility in the future. It is also nice that our Chinese partner institute besides the disciplines of economy and humanities shows great interest in the disciplines of teacher training and engineering. There are 187 Chinese students studying at the University of Debrecen at the moment. Thanks to the signed cooperation agreement we hope that this number will grow – emphasized Elek Bartha.
The delegation's programme finished with a visit to the Faculty of Engineering.
Press Office